The newly arrived items such as locomotives, wagons, accessories or buildings are listed on this page. This page will be regularly updated. For more information about the product, click the article number.
Take also a look at our extended online shop.     ► Webshop Big Train World
LGB 29271 – Jubileum Set 125 jaar RhB
This set is special for the 125 years anniversary of the Rhaetian Railway. The set includes the locomotive "Rhätia", a passengercar C and two observation car type B2. Not available separately.
Piko 37770 – Coal Container Car 
Coal Container Car of the Deutsche Bundesbahn (DB) from era III.
LGB 27253 – Steam Locomotive Forney
Forney steam locomotive Forney in the execution of the SR & RL.
.
LGB 22155 – Steam locomotive with tender of the DR
On the DR narrow gauge lines in Mecklenburg- Vorpommern, many small steam locomotives coupled with a tender were in use. This model is derived from these examples

LGB 70403 – Start set freight train with steam locomotive 
A Start set with many playing options. Consisting of a steam locomotive "Stainz", a ballast car and a loaded low-side gondola.
LGB 40816 – Railway company car Xk of the RhB
Material wagon of the workshop in Landquart. An authentic model with extensive paint scheme and lettering.

LGB 41229 – Open wagon with Steiff teddy
With original 23 cm big, Steiff Teddy Bear.

LGB 35690 – Baggage carriage of the RhB
Baggage carriage of the RhB in the original painting from the 70's.
LGB 43121 – High side gondola 99-72-05 of the DR
The high side gondola in the painting and markings of the DR from Era III, with metal disc wheels.

LGB 22930 – Diesel locomotive Köf II of the DRG
Rangier diesel locomotive Köf II of the German State Railroad Company (Deutsche Reichsbahn-Gesellschaf; DRG) in the typical version of era II.

LGB 40030 –  Set open freight cars of the HSB
A stunning set of 3 newly constructed gondolas.
LGB 40035 – High side gondola Wangerooge of the DB 
These multipurpose cars were and are used for many different purposes. This model is based on the type Münster 75 O of the Inselbahn Wangerooge of the DB from Era III.
LGB 41031 – Set open freight car of the DR
This set consist of 2 individually packed German Reichsbahn (DR) cars from Era IV, type Ow gondolas.
LGB 41039 – Bogie car set of the DR
The car set is loaded with a cargo real wood which can be secured with the supplied metal chains.

LGB 49170 – Narrow gauge rural railroad car set 
This car set consists of 4 cars; 1 stake car loaded with barrels, 2 different high-side gondolas and 1 car with boards for walls.
LGB 33666 – RhB Panoramawagen GEX 1st class
The Glacier express runs from St. Moritz to Disentis on the lines of the RhB. This LGB Model is a prototypical reproduction of a new panorama car, 1st class, Era V.

LGB 33667 – RhB Glacier Express Dining Car
This service car was built for the new, very modern Glacier Express.
LGB 21750 – Electric locomotive E 10 of the DB
German Reichsbahn (DR) E 10 electric locomotive from era III, in steel blue color. This new LGB model is finely detailed and lettered. 
LGB 46357 – Fire fighting train equipment car
Equipment car from the DR Wernigerode firefighting train as it looked arround 1979.

LGB 20755 – Electric locomotive BR 139 of the DB
German Federal Railroad (DB) class 139 electric locomotive in the chrome oxide green basic paint scheme for era IV. This new LGB model is finely detailed and lettered. 
LGB 26815 – Steam locomotive 99 222 of the HSB 

Wheatered steam locomotive 99 222 of the HSB. A unique version, limited to only 100 locomotives.
Maisto 36874 & MotorMax 75200AC – New model cars
Maisto's Humvee military vehicle and Motormax Ford F-150 Supercab. Detailed and reality based.
Hartstochtelijke figuren in G schaal, verkrijgbaar
 in 4 spannende positi
es. Een pikante en verleidelijke aanvulling voor uw baan.

The brand new MM1 oil maintenance pen comes in a 12ml compartment and that is 50% larger than the former LGB oiler, which is no longer available.
Beautiful authentic East German farm. The walls are made of weather resistant resin and also from within the farm nicely finished.
Beautiful authentic East German barn. The walls are made of weather resistant resin.
LGB 27425 – Electric locomotive 4/4 MOB
The MOB (Montreux- Berner Oberland Bahn) owns four locomotives (8001 to 8004) of the series Ge 4/4. The model features the example matching technology.
LGB 45922 – RhB Stake car Re-w
4-axis RhB The stake car with aluminum sides and stanchions, type Re-w, used in era VI.
LGB 41891 – RhB container wagon
Container wagon of the RhB, loaded with a removable cooling container with RhB- inscriptions. Car with new car number and detailed container.
Prehm starts 2014 with the series, 550001, 550002, 550003, 550004, "relief houses". Four different townhomes0 are early this year added to the program.
LGB 20220 & 20225 – RhB train unit ABe 8/12 "Allegra"
First available in the Netherlands at Big Train World! 3-piece electric multiple ABe 8/12 set of the RhB (Rhaetian Railway). The model is in the condition of the vehicle in the jubilee year, 100 years Bernina railway.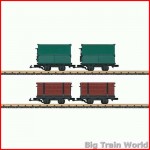 LGB 49190 – Rural railroad car set 
The set consists of 4 cars. Two rural railroad cars and two high side cars in authentic colors. All cars can be prototypically loaded.

LGB 26850 – Mallet steam locomotive BR 99 201
By the German army bought in 1917 by Henschel. It was a large and articulated locomotive suitable for the gauge type Mallet, which would ensure a better distribution of the axle loads.

LGB 26841 – Steam locomotive serie 99.51
The Royal Saxon Railways procured a total of 96 Meyer-articulated locomotives for different narrow gauge lines in Saxony. Many of them are still to see in museums or at the museums railways.
---